Jurassic World: Dominion Dominates Fandom Wikis - The Loop
Play Sound
Say Hello! 2nd Anniversary
---
Date: June 01, 2019
B-PROJECT Kaikan*Everyday Second Anniversary Celebration Campaign will be implemented!
You won't want to miss out on new photos for all 14 members, a campaign for a Second Anniversary Celebration tapestry present, and more to get excited about!
A Total Of 300 SHOT! Free Photo Shoot Everyday!


Until 6/30 23:59, A 10 SHOT Photo Shoot where you'll be able to shoot for free for a total of 300 SHOT starts! For this Photo Shoot, you'll receive crystals as presents depending on the number of times all users did the photo shoot. By completing 5,000,000 SHOT, you'll receive a total of 400 Crystals ♪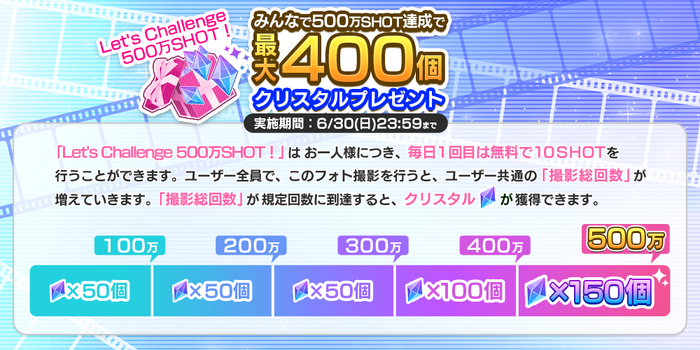 2nd Anniversary Tapestry Present Campaign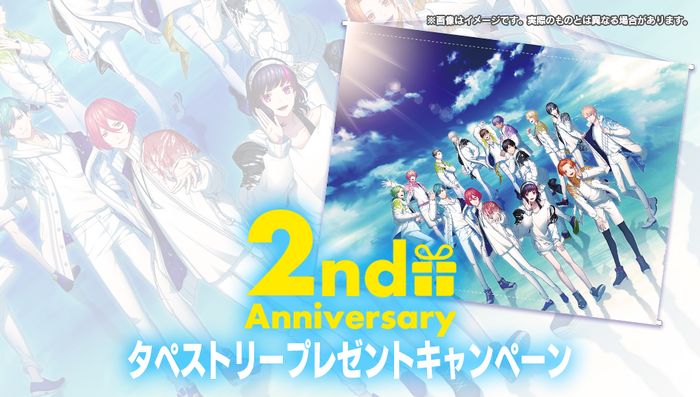 Until 6/28 23:59, you'll be able to collect [Lottery Tickets] from various places in game and participate in the Present Campaign!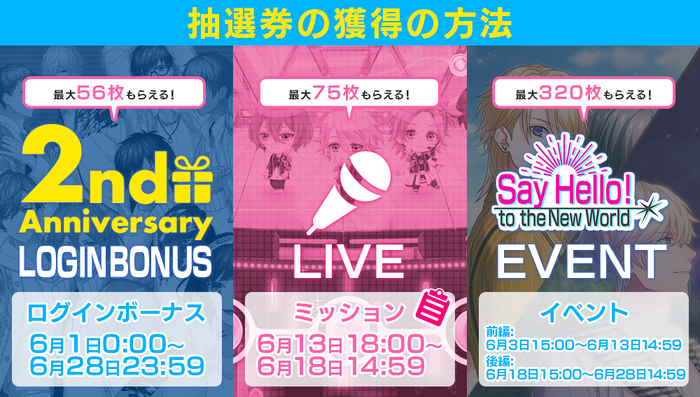 New SSR Photos for all members! New Series 「The New World」!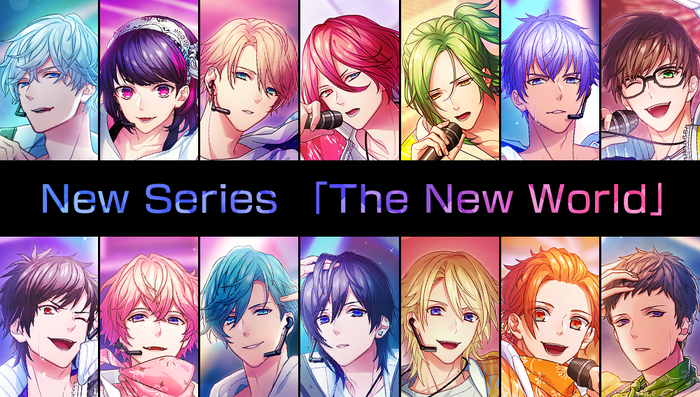 It's the Second Anniversary! The New Series 「The New World」 appears!
This is a big chance to photograph the 14 BPRO members challenging their first overseas live after being invited to perform live at a music award ceremony in Singapore!
They'll have an exclusive story you can only read here and you'll be able to awaken them to SSR++ live photos ♪
Photo Shoot Schedule
KitaKore ・ MooNs
6/3 15:00 ~ 6/13 14:59
THRIVE ・ KiLLER KiNG
6/18 15:00 ~ 6/28 14:59

All Members of BPRO Appear! Holding a Special Event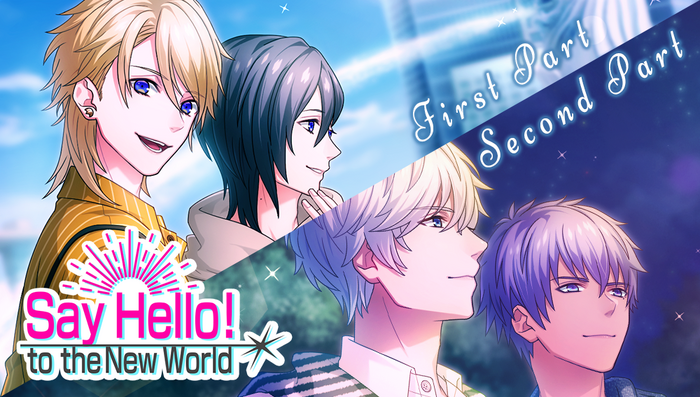 On 6/3 15:00, the event 「Say Hello!to the New World」will be held!
The first and second half will have a total of 12 exclusive stories you can read and there will be special photos that you can only collect from this event!
The top 200 places in the Event Point Ranking will receive a Second Anniversary Celebration Tapestry present!
With a total of 400 winners with both the first and second half, do try to challenge it ♪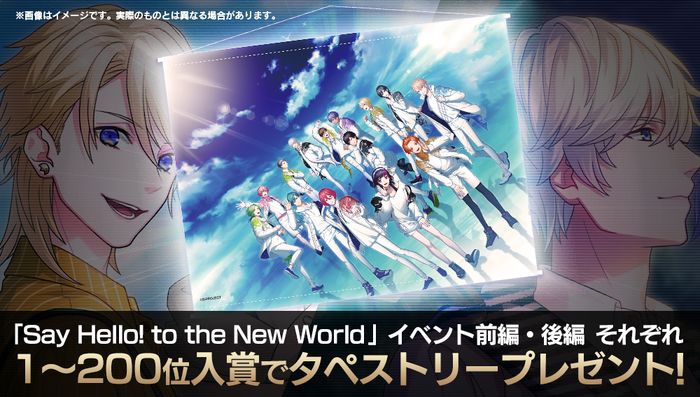 Event Schedule
First Half: 6/3 15:00 ~ 6/13 14:59
Second Half: 6/18 15:00 ~ 6/28 14:59

Main Story Season 2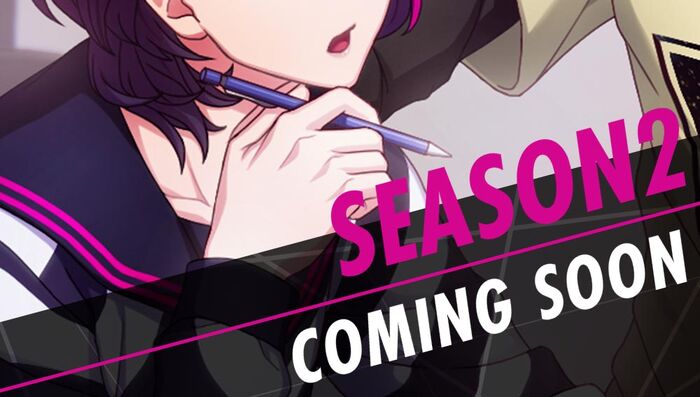 On 6/13 18:00, it's planned for Main Story Season 2 to be released!
It's been decided that BPRO will take a job on a popular variety program in order to answer the dreams of the viewers. The 3 main supporters out of the 14 members chosen by Atsushi and Shuji are......
There will be stills that you can only see in these stories! Don't take your eyes off of these 14 members who are performing various challenges! 1 Story will be released every month, so look forward to it ♪

Past Event Photos Appear In Coin Exchange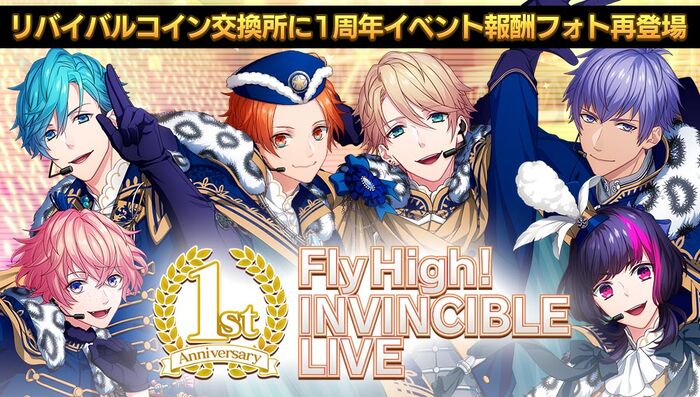 The「INVINCIBLE LIVE」Series Photos will be included in the Revival Coin Exchange Shop! They were limited time photos collected as rewards in the First Anniversary event, so they will reappear for a limited time in the Exchange Shop until 6/30 23:59!
The BPRO members will be performing the final act in a large event sponsored by Gandara Music. Each group is in high spirits will preparing their share of their share of the work by doing things such as arranging songs for the live's production or creating new goods, but then--? You'll have to check the member's hard struggle to overcome obstacles in order to show the best performance!

Campaign 1
Coming soon!

Campaign 2
Coming soon!

Campaign 3
Coming soon!

Campaign 4
Coming soon!